A witness to a dog attack that left a Surrey animal control officer in need of surgery said the episode has left her traumatized.
"It was inhuman, I couldn't tell if [the screaming] was human or animal," said D'arcy Legaree.
"It was worse than a horror movie. I can't even describe it, it was brutal, traumatic. I was crying before going to bed last night."
What happened?
The attack happened Tuesday, in Legaree's back yard near 189 Street and 54 Avenue in Cloverdale.
She said it all started around 2:30 p.m., when she heard Frodo, the husky that lived in her neighbour's yard, pawing at the fence separating their properties and making unusual sounds.
Shortly afterward, she heard another dog being attacked in front of the home and saw its owner making a kicking motion. She then saw Frodo walk away, and decided to call animal control.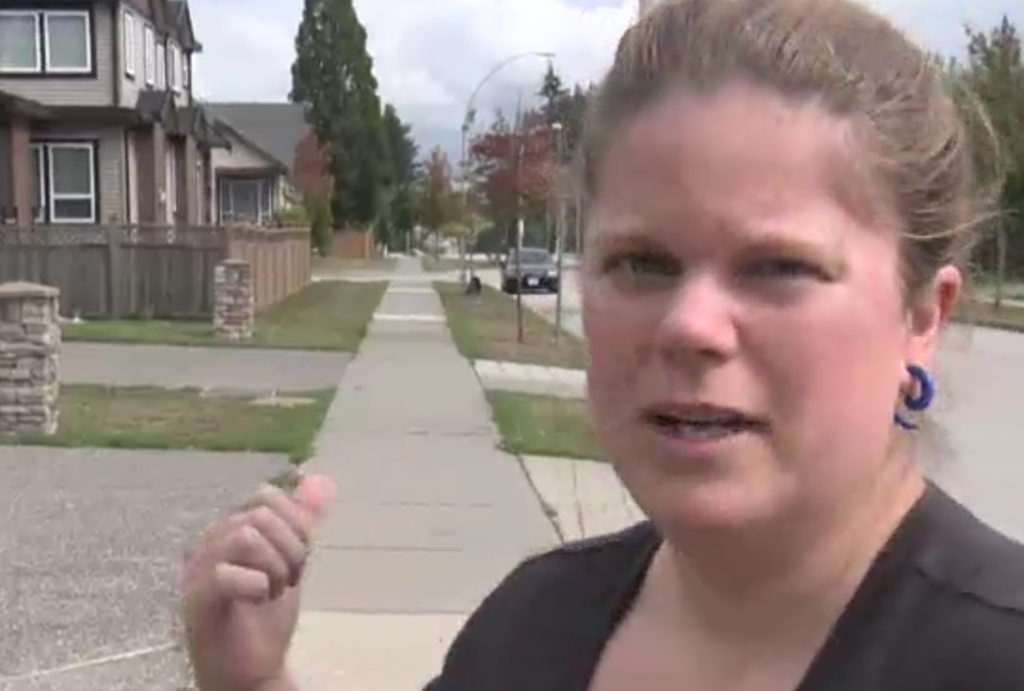 Candice Stone, who also lives in the neigbhourhood, said she saw an open gate and the dog walking down the street, but that it showed no signs of being aggressive.
"A lady was on her phone, trying to call it in to animal control, said it was a really vicious dog, didn't appear to be vicious, kissed us, cuddled, pet it, and that was it," she said.
"I've seen it walking in the neighbourhood with its owners, it's always been friendly."
By the time the animal control officer arrived, Frodo had moved into Legaree's back yard, she said.
Legaree said the officer went to monitor it, and about 10 minutes later she heard the attack.
"All of a sudden I heard the most horrible screaming I've ever heard in my life," she said.
"I came back out onto the patio and I could see her in the bushes laying down, she's screaming, 'He almost ripped my arm off, get help.'"
RCMP
Legaree called 911, then went back outside to try to scare away the dog, which was still standing over the officer.
"She couldn't get up, there was blood pouring down her arms. I could see puncture marks," she said.
The RCMP, paramedics and bylaw officers arrived shortly afterward and took the injured woman to hospital, while animal control officers used a restraining pole to capture Frodo.
"And the animal control officer was struggling, this guy was big, this is a big man, this guy was struggling to get him up the stairs. You don't realize how strong a dog is until you watch a full grown man struggling," she said.
Surrey public safety manager Jas Rehal said it appears the dog attacked the officer without provocation.
He said she underwent surgery on Tuesday night, and is now recovering from "severe" bites to the arm and hand.
Rehal added that the dog had no history of complaints or previous attacks, and that its owner surrendered it voluntarily.
He said the dog has since been put down, but that the owner may yet face charges after the city concludes an investigation.
"The animal control business is dangerous, risky business but you know this is a really unfortunate isolated incident. We're really fortunate we haven't had severe injuries like this in the past," Rehal said.
"Our officers do get bit from time to time and nipped when dealing with animals, but this is a really rare and severe incident."